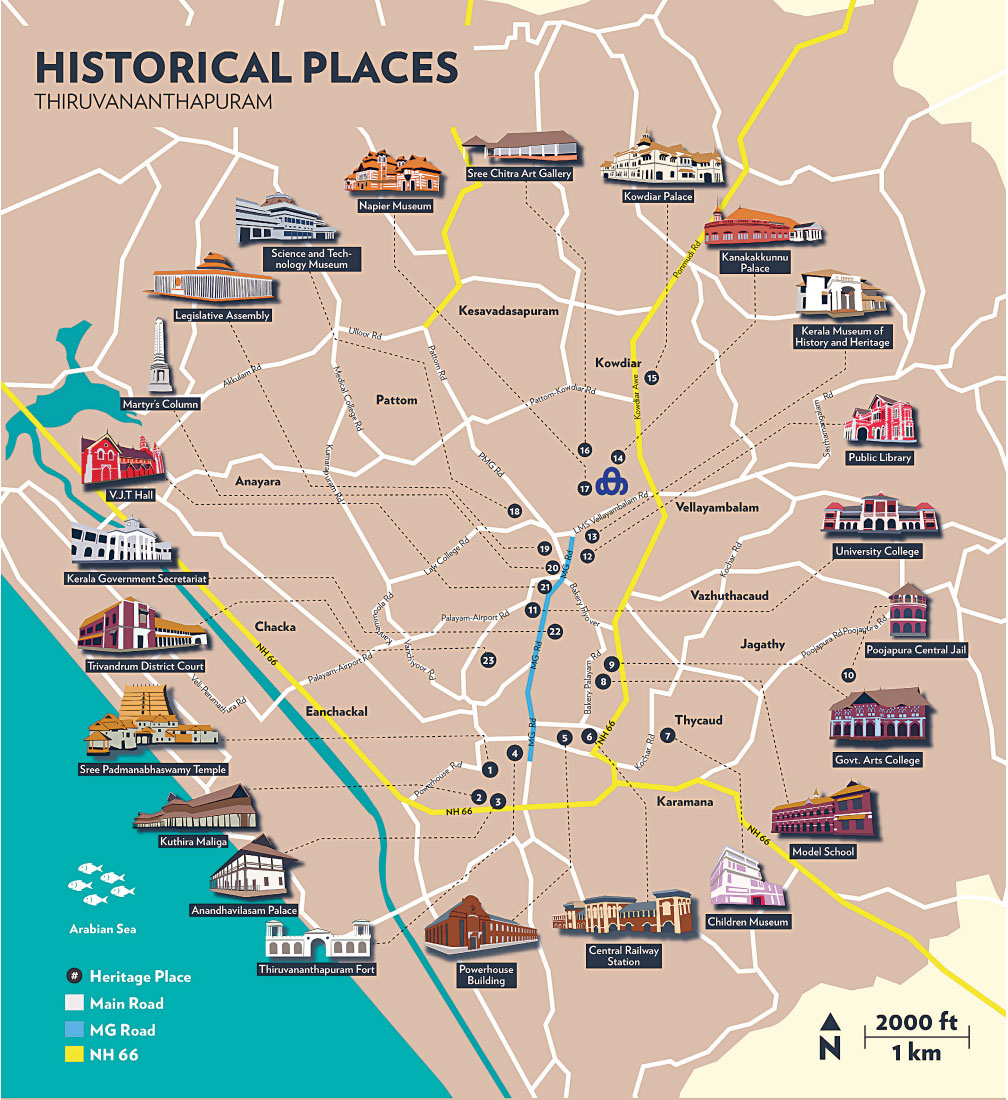 Sree Padmanabhaswamy Temple
The richest Hindu temple in the world, re-built to present form by Maharaja Marthanda Varma during 1729-1758. The festivals of Alpashy and Painkuni are celebrated in a grand manner at this temple every year. Lord Vishnu's image at the Padmanabhaswamy Temple is in the Anantha Sayanam. pose- resting upon Adishesha. the divine snake. This legendary temple and its location has been mentioned in several Hindu texts such as the Brahma. Matsya. Skanda, Varaha and Vayu Puranas and also in the Hindu epic Mahabharata. Considered to be one of the 108 Divya Desams (holiest shrines of Lord Vishnu) and also as one of the seven Parashurama Kshetras in India. Legends say that this is the place where Lord Vishnu gave darshan to Indian sages like Divakarmuni and Vilvamangalam Swami. According to another legend, Lord Balram visited this place as part of his teerthyatra. He took bath in Padmatirtham and gifted ten thousand cows to holy men.
Kuthira Maliga
Built by Swathi Thirunal, king of Travancore from 1829 -1846 and famous Carnatic music composer.
Anandhavilasam Palace
Vishakam Thirunal Rama Varma(1880-1885) was its occu-pant. At present, the building is owned by Sree Padmanabha Swamy Temple Trust and occupied by the State Bank of Travancore.
Thiruvananthapuram Fort
Built during 1747 -1787, as per the design of Vastu vidya (tra-ditional architecture) expert Thycaud Vishnuthrathan Nam-boothiri, is 15 feet in height and 11,320 feet in length. There are four major entrances to the fort namely East Fort, West Fort, North Fort and South Fort. Besides, there are small entrances at Sreevaraham, Sreekandeswaram and Vettimuri-cha Kotta. The state archaeology department took over the structure in 1985.
Powerhouse Building
The Electric Power House, Trivandrum was opened in 1929, the opening day of the Silver Jubilee Session of the Sri Mulam Popular Assembly. The work of construction started in March 1928 and in ten months the first trial was success-fully conducted. The generators are worked by three air compression Engines of the Diesel Type, crude oil being used as fuel. The current will be available for public lighting, for lights and fans in private and public buildings and for industrial proposes.
Central Railway Station
The Thiruvananthapuram Central station building was built (completely with rock masonry) in 1931. The Madras-Quilon line was extended to the city and was opened on 4 January 1918. The line then terminated at Chakka, which was the trading centre of Thiruvananthapur-arn then. The terminus was shifted to Thampanoor in 1931. The station was but to handle two departures per day in 1931 and had only one platform till the 1970s. It was presumably the longest covered platform at that time. The plat-form could accommodate two trains at a time in that single line platform.
Children's Museum
Also called the Doll Museum, it displays a vast range of about 2000 objects including dolls, masks, and stamps. The dolls include those that portray the different regions of India, and also ones that show different foreign cultures including British, American, Africa, etc. The dolls range From locally available children's toys to the dolls that are used during the Indian festival of Durga Pooja. Different types of people, jobs, differences in dressing and similar details have been put on display through these exhibits. The museum also has a dedicated philately section.
Model School
Started in 1905, the school was attached to the Training College. C.F. Clark was the Principal.
Govt. Arts College
Established in the year 1948, the college is presently affiliated with Kerala University.
Poojappura Central Jail
One of the three central prisons other than Kannur and Viyyur. Opened in 1886.
University College
Founded as Rajah's free school in the year 1834 by Sri Swathi Thirunal, In 1866, during the reign of His Highness Sri Ayilyam Thirunal, it was raised to the status of a College affiliated to the University of Madras. It was named H.H. The Maharaja's College, though it still had the original school attached to it. Later, the school was separated as the college came under University of Travancore in 1937 and thereafter under University of Kerala.
Public Library (State Central Library)
Known as "Trivandrum People's Library". Established in 1029 during the reign of King Swathi Thirunal. In1950 - The Library was declared as the 'State Central Library' of Kerala.
 Kerala Museum of History and Heritage Documents the history and heritage of Kerala that spans over 3000 years as per available prehistorical and historical evidence. It is a joint venture of Kerala Tourism and the Kerala State Depart-ment of Archaeology.
The Kanakakunnu Palace
A colonial-style building was earlier worked as a guest house. Started atop a hillock which commands a good view of the city.
Kowdiar Palace
The palace was home to the last king of Travancore, Sri Chitra Tirunal and has vast ground with greenery
Shri Chitra Art Gallery Named after the last king of Travancore, this gallery was started in 1935. The major attraction are the paintings of Raja Ravi Varma.
Napier Museum
Started functioning in 1857, the present building being opened in 1880. A massive collection of historical artefacts-sculpture, carvings, ruins, Cr,- In particular, the cword of Velu Thambi Dalava. Named after Lord Napier.
Science and Technology Museum (Priyadarshini Planetarium)
Established by Government of Kerala, in 1984, with the Priyadarsini Planetarium attached to it.
Legislative Assembly
The building was the headquarters of the Travancore Nair Brigade in 1868 and was later used as a military hospital. Later on, it was converted into the Legislative Assembly Museum in 2006.
Martyrs Column
Abs Raktha Saks', Mandaparn Unveiled by Ds Rajendra Prasad, the President of India in 1957.
V.J.T Hall (New Ayyankali Hall)
Described by Ayyankali as the backdrop of Kerala's cultural and political renaissance. The Victoria Jubilee Town (VJT) Hall was established in 1896 to commemorate the corona-tion of Queen Victoria. The defining socio-political play *Ningal Enne Communis-takkr, was first staged here. Thoppil Bhasi, had famously described the hall as the Sierra Maestra of Travancore (referring to the mountain ranges from where Fidel Castro launched his guerrilla v errilla attack against the Batista Goern-ment).
Kerala Government Secretariat
A Victorian structure, whose construction was completed in 1869. The building is a classic example of British decor, designed by Barton, a British chief engineer. The assembly hall, now a historical monument, attached with the Secretariat complex was inaugurated in 1936.
Trivandrum District Court
English-Gothic designed building first housed the SMV school till 1941. and is one of the green lungs of the city. One of the oldest libraries, Chithira Thirunal Granthashala is near it. school till 1941.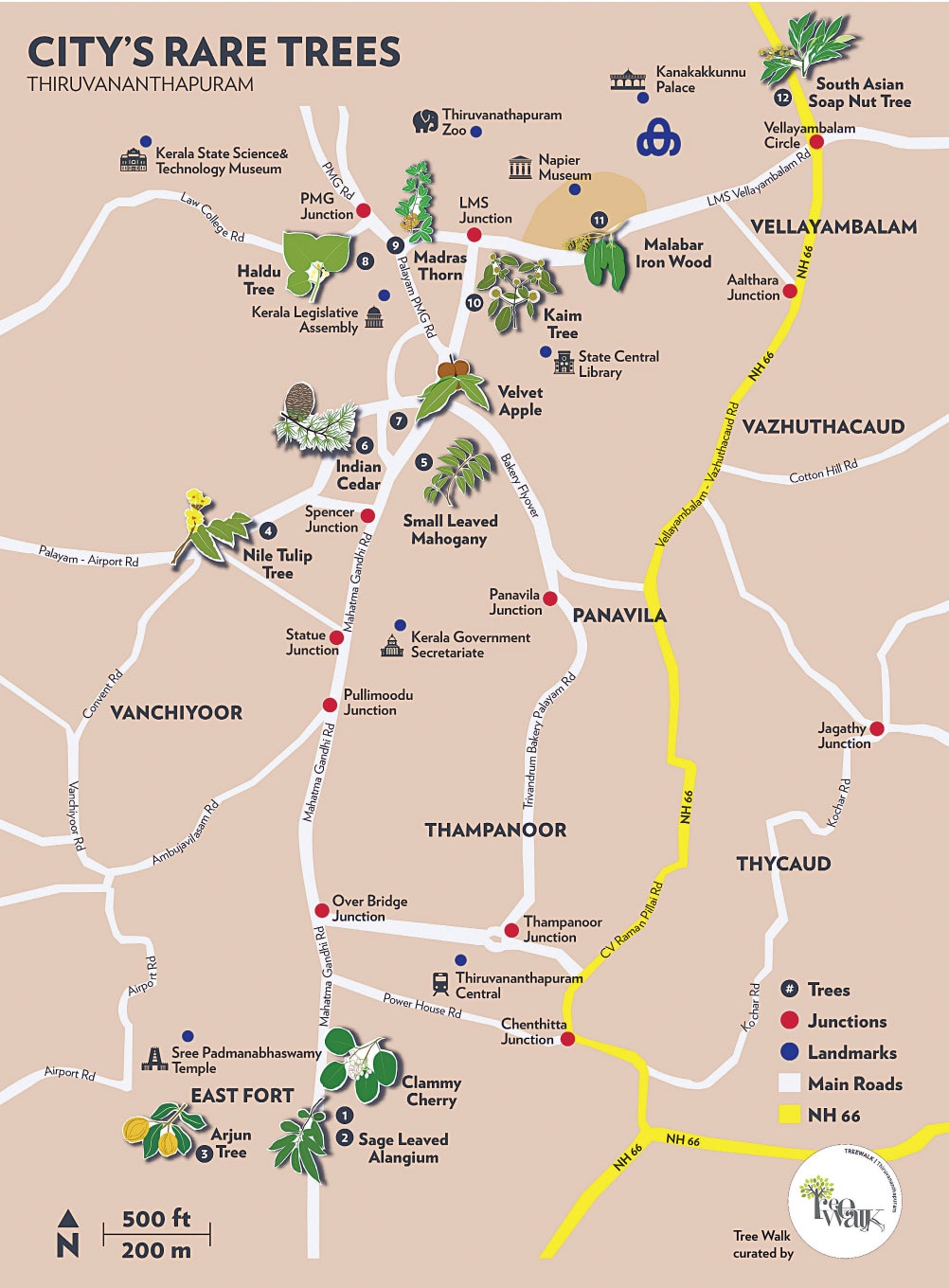 1. Clammy Cherry: Topical and subtropical area of Asia. Central and South America Fruits are edible,traditional medicine.

2. Sage Leaved: Western and Eastern Africa, Southern and Eastern Asia, Madagascar,tropical Australia Traditional medicine for treatment of rabbit,dog and rat bites.

3. Arjun Tree: South and South East Asia Leaves food plant of moth producing Tussar silk.

4. Nils Tulip Tree: Eastern Africa Ornamental tree for flowers.

5. Small Laved Mahogany: South Florida, Carribean Islands Rare and endangered in the wild.

6. Indian Cedar: Southern Asia and Australia.

7. Velvet Apple: Phillipines, Fruits edible, Male and female trees.

8. Haldu: Southern Asia, Bark is antiseptic.

9. Madras Thorn: Central America I Edible fruits Ideal for eco-restoration.

10. Kelm Tree: East Asia , Bark and roots medicinal

11. Malabar Iron Wood: Endemic to Southern Western Ghats, Rare and endangered

12. South Asian Soap Nut Tree: South and South East Asia Detergent properties Larval food plant For rate butterflies.